As I consider the tragedy of George Floyd's death and its devastating aftermath, I keep thinking of the incarcerated writers, many of whom grew up in the Twin Cities and are heartbroken by recent events. Before the pandemic hit, I was scheduled to teach this spring for the Minnesota Prison Writing Workshop, a remarkable non profit organization that offers writing classes in every correctional facility in the state of Minnesota. I discuss their work in my book, Words No Bars can Hold
They have been in touch with some of our incarcerated writers and offered a reflection, an excerpt of which which I would like to share with you:
Our community on the inside tells us they are angry, sad, worried, proud. They saw the Twin Cities erupt in flames on television screens inside their cells.  They saw Minnesotans – their moms and cousins and teachers and neighbors – gassed and shot at while they protested. They saw I-35 filled with thousands of people kneeling in peaceful protest as a tanker truck barreled toward them.
One writer says he cannot believe his neighborhood in South Minneapolis has become the center of the universe. One wants us to know that if he was out of prison he would help rebuild. Another says he is proud and hopeful because, this time!, this time!, the volume of people who protested overwhelmed him, as did the crowd, people of every age and color across the globe.
It's difficult to communicate with our students right now. We hope they also see photos of the street art that has sprung up across the city. The community that feeds it neighbors. George Floyd's sacred memorial space—the altars and circles of flowers and signs and poems and artists visiting and praying and performing.  When we're back inside, we'll share words written by our community just as the city took a breath. We'll celebrate the way Black activists have laid the groundwork for this groundswell of change today, and a decade ago, and centuries before that. The change, which appears so swift in the wake of George Floyd's death, but comes from years of building and perseverance.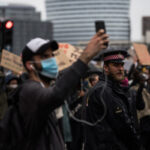 George Floyd was murdered because the criminal justice system worked as it has been designed to work. That same system, driven by white supremacy, built the walls and bars in which our students live. Our students and other artist-activists show the way out. We're beside them.
From Minnesota Prison Writing Workshop, June 9, 2020