At 7:30 AM on a still cold March morning, I wait inside the entrance of an urban public high school, with Patrick, a ninth-grade English teacher on one side of me and a security guard on the other. We are waiting for the arrival of Eli, my formerly incarcerated student, who has agreed to spend the day at the high school. Eli arrives exactly at 7:30, dressed immaculately in a three-piece gray suit. I berate myself silently for worrying that he might be late.
Together, Eli, Patrick, and I make our way through the crowded halls; nearly every student we see is a student of color. The ninth-grade students have been reading Walter Mosley's Always Outnumbered, Always Outgunned, an adolescent novel about the challenges of adjustment faced by an African American ex-convict. Patrick, an extraordinarily gifted veteran teacher committed to the urban youth he serves, has become increasing worried about the precarious pathway of many of his students. They seem to be gingerly walking the tightrope between jail and college. Many have experienced the ravages of incarceration in their own families–fathers, brothers, uncles, even sisters and mothers. Patrick hopes to interest them in learning in ways that so many of my incarcerated students were not. He wants to engage them in literacy, in reading texts and writing about them. He also wants his literacy lessons to be relevant.
During my regular visits to Patrick's classroom he and I hatched a plan, inspired in part by a student named Henry. Henry is bright and thoughtful, but he is flunking out of ninth grade. He is frequently absent, tardy to class when he is present, his sweatshirt hood hiding his face. He never participates in class. Patrick is worried about Henry, and so am I. He seems destined to drop out of school. The enticements of the streets beckon. If only we could fashion learning to capture Henry before the police do.
Patrick decides to teach the Walter Mosely book and asks if I'd like to come speak to his classes about my experiences teaching in the prison. Mindful of Erica Meiner's (2007) helpful conceptualization of the White Lady Bountiful, I tell Patrick that my speaking to his students might be no more effective than Nancy Reagan's "just say no" campaign in the 80s. I am not a messenger with any credibility.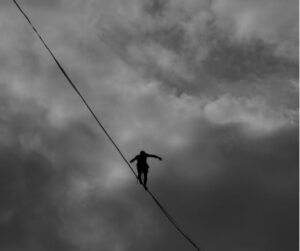 But Eli is. Incarcerated at 15 for over 17 years before managing to have his life sentence overturned, Eli knows the consequences of poor choices only too well. In addition to describing the realities of prison, with which the students are almost morbidly fascinated, he also speaks passionately about the power of education. He falls into the cadence of a preacher and uses a call and response to rouse the ninth graders.
"Hey y'all, I wouldn't be here without education. Say education."
The students respond, "education."
"I needed to release the power of my own intellect. Say intellect."
"Intellect."
"I needed to learn that literacy is the key. It was the key to my freedom. Say freedom." "Freedom." Henry looks up.
"Brother, I am speaking to you. Do you hear me?"
Henry nods slowly.
"I am out here to make sure you don't go in. It's what I am dedicating my life to. Hear me, little brother, stay free. Say in school. Say I will, say I will, y'all."
"I will." Henry mouths the words.
Eli, Patrick and I all know that it will take more than a one-time visit by an ex-convict to keep Henry out of prison. But as much as this story is about Henry, it's about Eli, too. Eli has recrafted himself from a discarded shell of a man known only by an ID number, written off by everyone except himself, to a vibrant example of the power of literacy behind bars.
Yes, prisons are inhabited by some who have not learned any path besides violence, but they are also filled with men like Eli, who will embrace and return the lessons of literacy, if we are willing to offer them.
Excerpt from "Words No Bars Can Hold" Literacy Learning in Prison. (W.W Norton & Company) Excerpt reprinted in The Crossing Arts Alliance Currents, August 2020, Volume 20, Issue 3